Due to COVID-19 epidemic, governments, enterprises and schools all over the world are taking precautions like home isolation and social distancing to ensure the safety of every individual , which leads to the surging demand for virtual meetings and remote learning.
In online meetings, attendees may have the need to share contends from their computers or cameras to make a better collaboration, which highlights the importance to select a reliable video capture device with low latency and versatile compatibility to macOS, Windows and other operating systems, for example, your MacBook Pro. This article will walk you through on how to bring your HDMI or SDI sources from camera into Zoom™, Panopto™, Skype®, GoToMeeting® and etc, using Magewell video capture device.
---
Devices Used:
One PC installed with Zoom.
One Magewell capture device (external capture dongle or internal capture card).
One Magewell standard USB 3.0 cable, several HDMI cables (selection based on the numbers of available video sources).
One camera.
---
Steps:
1. Visit the official website of Zoom and download the software, then install it and sign in.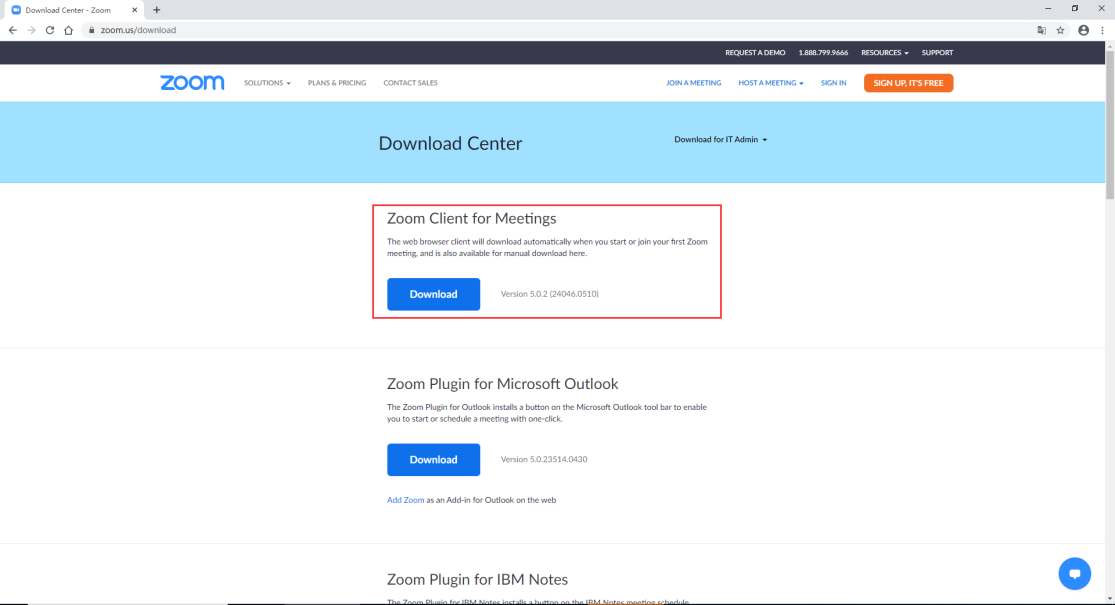 2. If you are using one camera for Zoom meeting, you can select Magewell USB 3.0 external video capture dongle to bring the video signal from the camera into Zoom. As shown in the flow chart below, you just connect the camera with capture dongle through HDMI cable and then connect the dongle to your computer via an USB cable. If you intend to bring multi-channel videos into the software, PCIe capture cards are recommended. We take Pro Capture Quad HDMI as an example in this article. You need to put the capture card into the PCIe slot on the computer first, (corresponding driver for the capture card is available on Magewell official website), then connect cameras or other video sources to the video capture device via HDMI cables. Specific device connection shown below: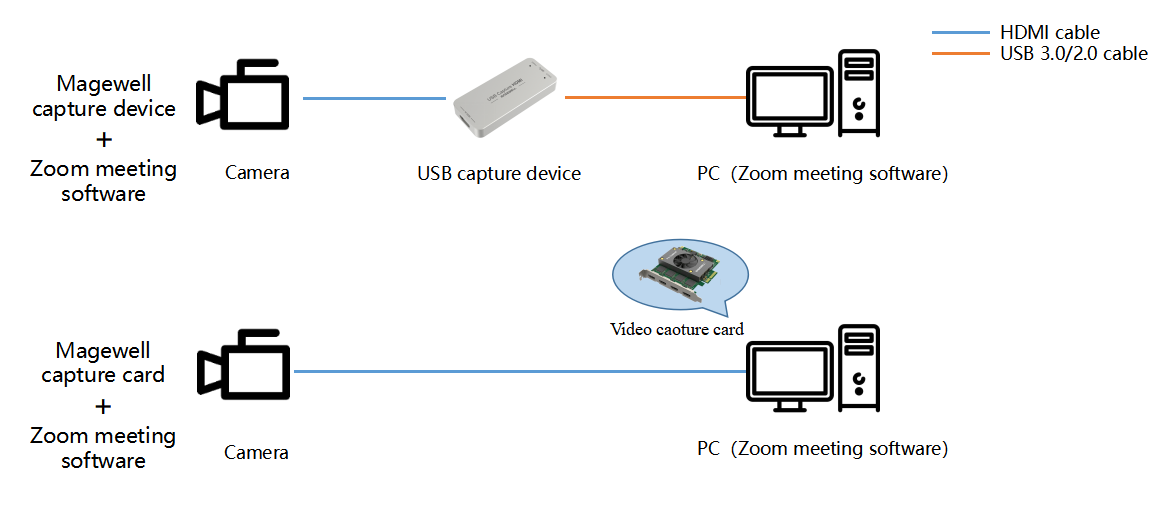 3. Log into Zoom, and you will find Magewell capture devices - USB Capture HDMI or Pro Capture Quad HDMI in the pull-down list "setting"- "video"- "camera". The software detects video capture devices automatically and you can preview the image when the channel is selected for display.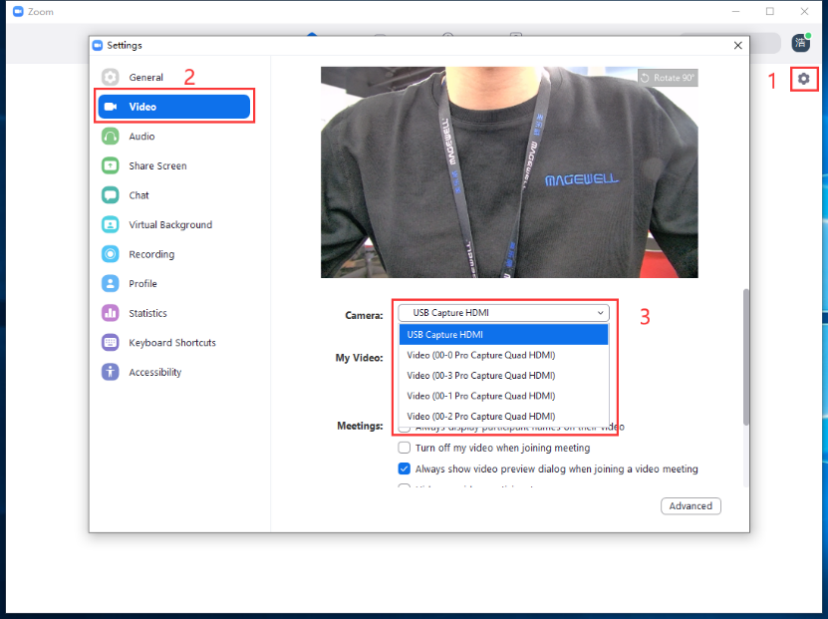 4. On "Audio"page, you can choose your desired speaker and microphone according to your meeting environment and demands. Magewell capture device-USB Capture HDMI and Pro Capture Quad HDMI can be found on the pull-down menu"microphone". Zoom detects the audio channels automatically.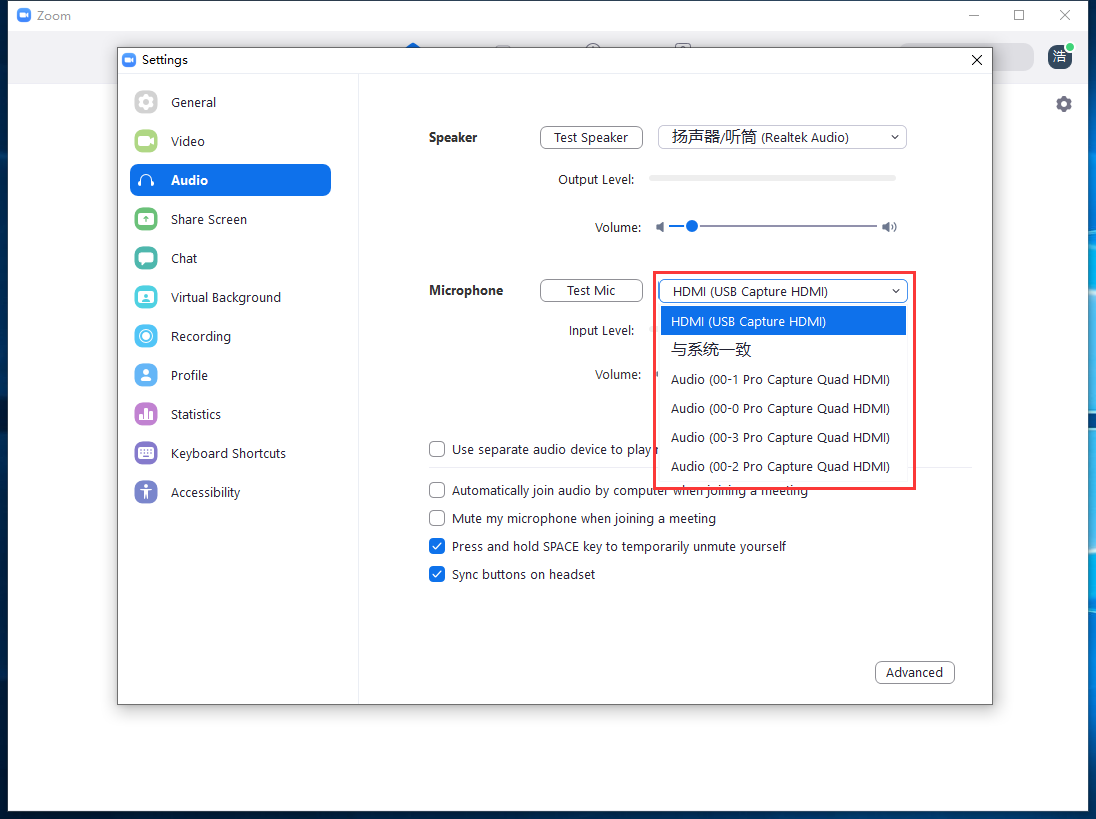 5. After all configurations for video and audio, click "new meeting" on its homepage to enter the conference room.
6. The audio and video detection window will pop out, you just confirm it and do a final test to ensure everything works great.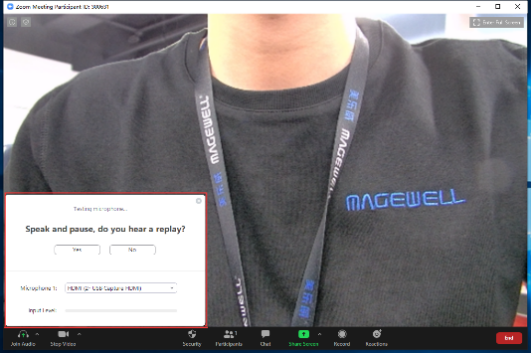 7. The camera image will display on the page of the conference room. Click the upside arrow icon near to the "Stop Video" icon on the bottom of the page, then you can switch different video sources and select the one you want to bring to live.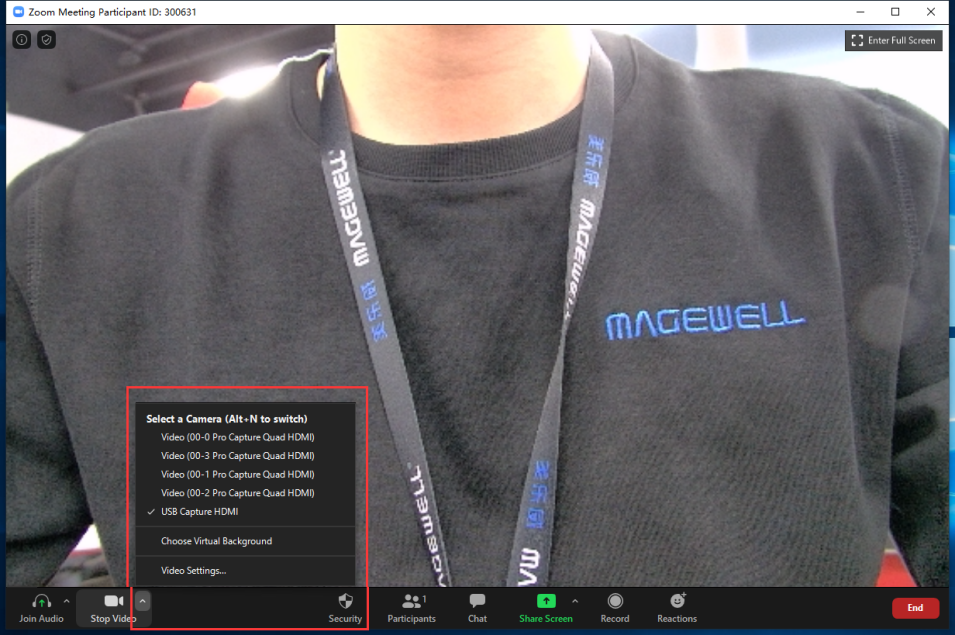 8. You can invite other participants to join your Zoom meeting right now.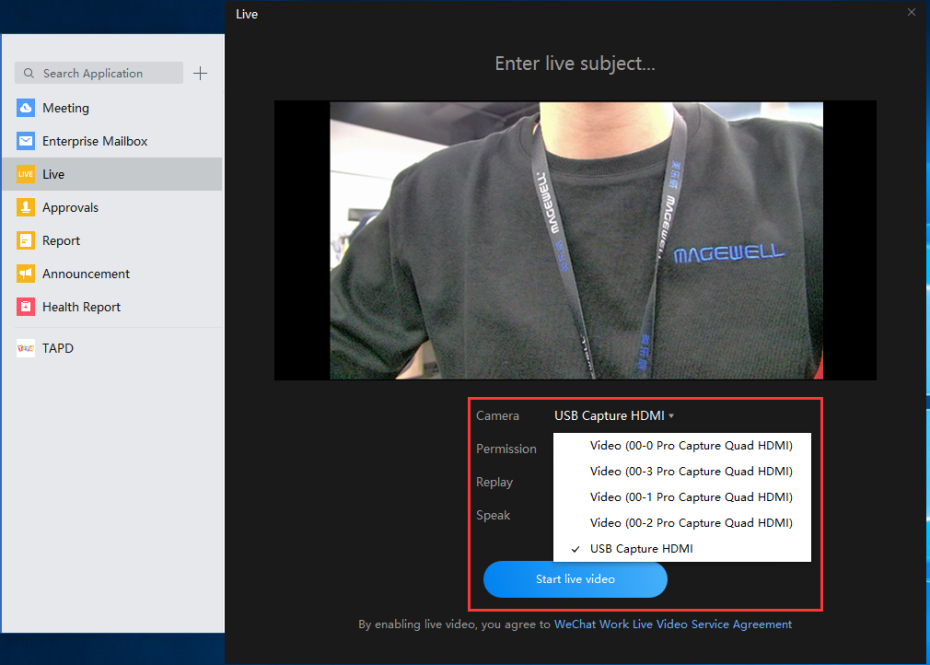 Magewell capture devices are also good companions with various video conferencing softwares such as Panopto™, Skype®, GoToMeeting® and etc.
Magewell USB capture dongle and PCIe capture card both support different operating system, compatible with extensive signal sources sent from different equipment, including legacy equipment. Compared to capture devices of other brands, Magewell video capture product leverages FPGA to do video processing, like Flip, Color Space Conversion, Color Adjustment, taking up zero CPU sources and providing reliable, stable and cost-effective capture solution.