Magewell Ultra Stream encoders make live streaming remarkably simple even for non-professional users, enabling them to stream or record high-quality video with one click. Small in size yet powerful in function, they are ideal for enabling reliable, cost-efficient streaming in education, government, corporate, gaming and other industries. This blog will introduce 4 tips for configuring the encoder and network environment to help users who use Ultra Stream achieve stable and reliable live streaming.
Users can control the encoder by using on-device buttons, a browser-based web interface or an intuitive smartphone app. Since the web and app management pages are very similar, we take the former for example.
1. Select stable network connection mode and test network stability.
Log in to the Web UI of the Ultra Stream, click "Streaming Server", add an RTMP server and select a stable network connection from the "Network" drop-down list such as "Ethernet First".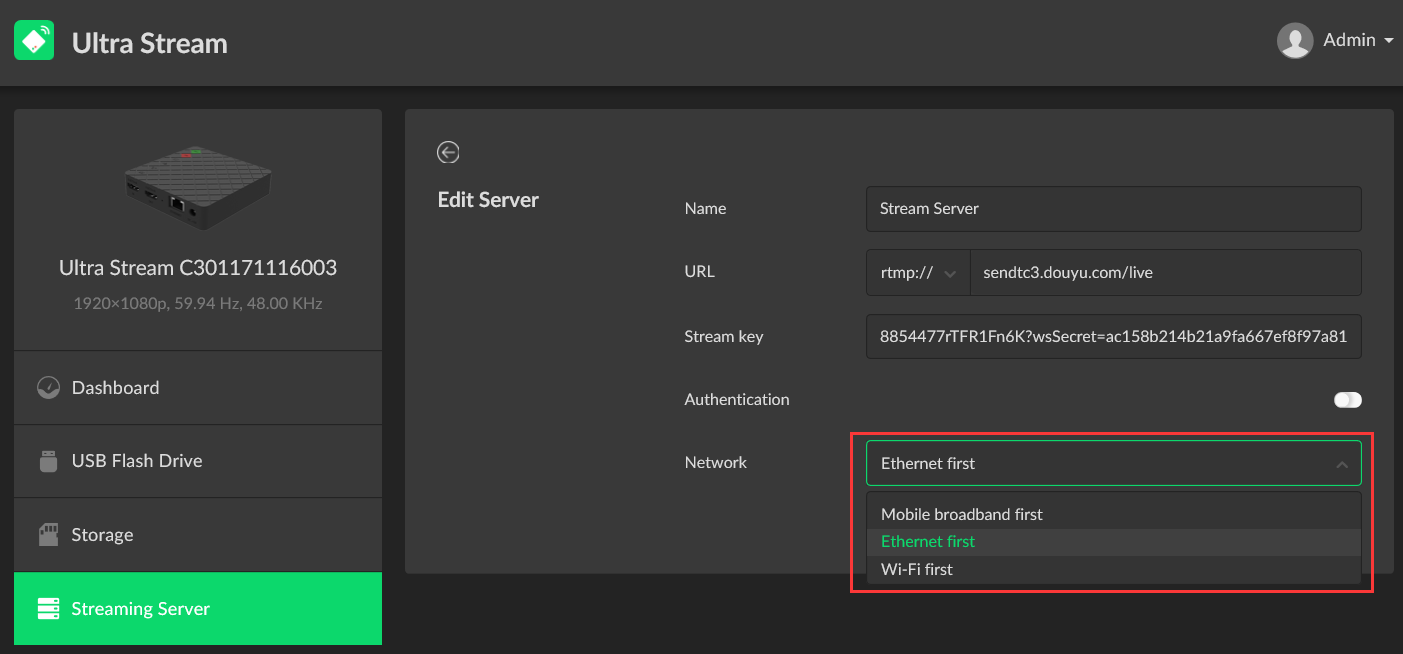 Enter URL and stream key, and click "Test". Ultra Stream software will determine whether the streaming is successful by detecting whether there is a large fluctuation of the upload speed (bit rate). If the network status can support the streaming bit rate, it will prompt "success".
2. Use "lock live" and "Low latency" mode.
Click "General" and turn on the "Lock live" switch in the "Live Streaming" column to effectively prevent the streaming from being interrupted due to misoperation; turn on the "Low latency" switch to achieve low-latency live streaming effects.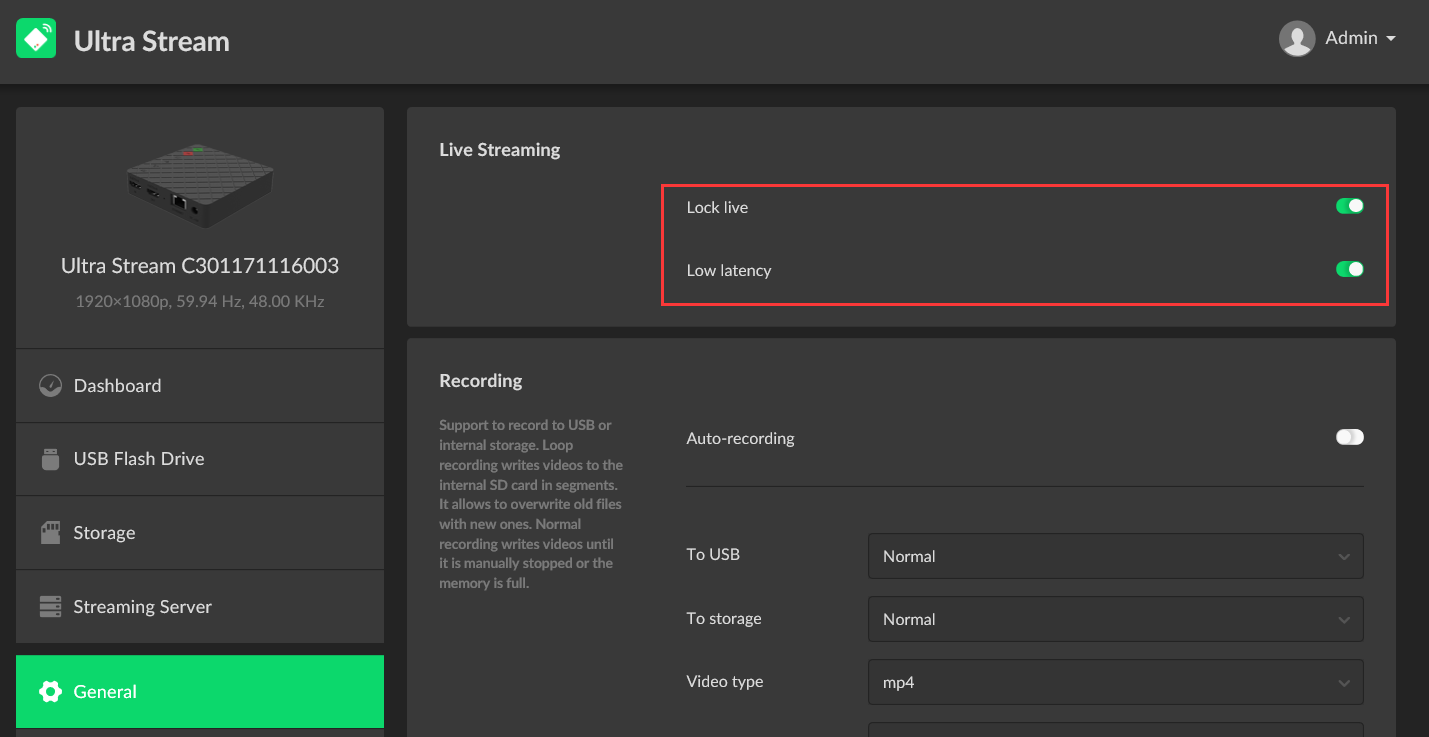 3. Select appropriate streaming bit rate.
Click "Encoding Parameters" and set "Output" in the "Customize Main Stream" or "Customize Sub Stream" column. You can select the appropriate streaming resolution, frame rate and bit rate according to the actual hardware facilities and network environment to ensure stable and smooth live streaming.

Set the "Keyframe interval" in the "Customize Main Stream" or "Customize Sub Stream" column. To ensure smooth live streaming, it is recommended to select 1 second or 2 seconds for the keyframe interval.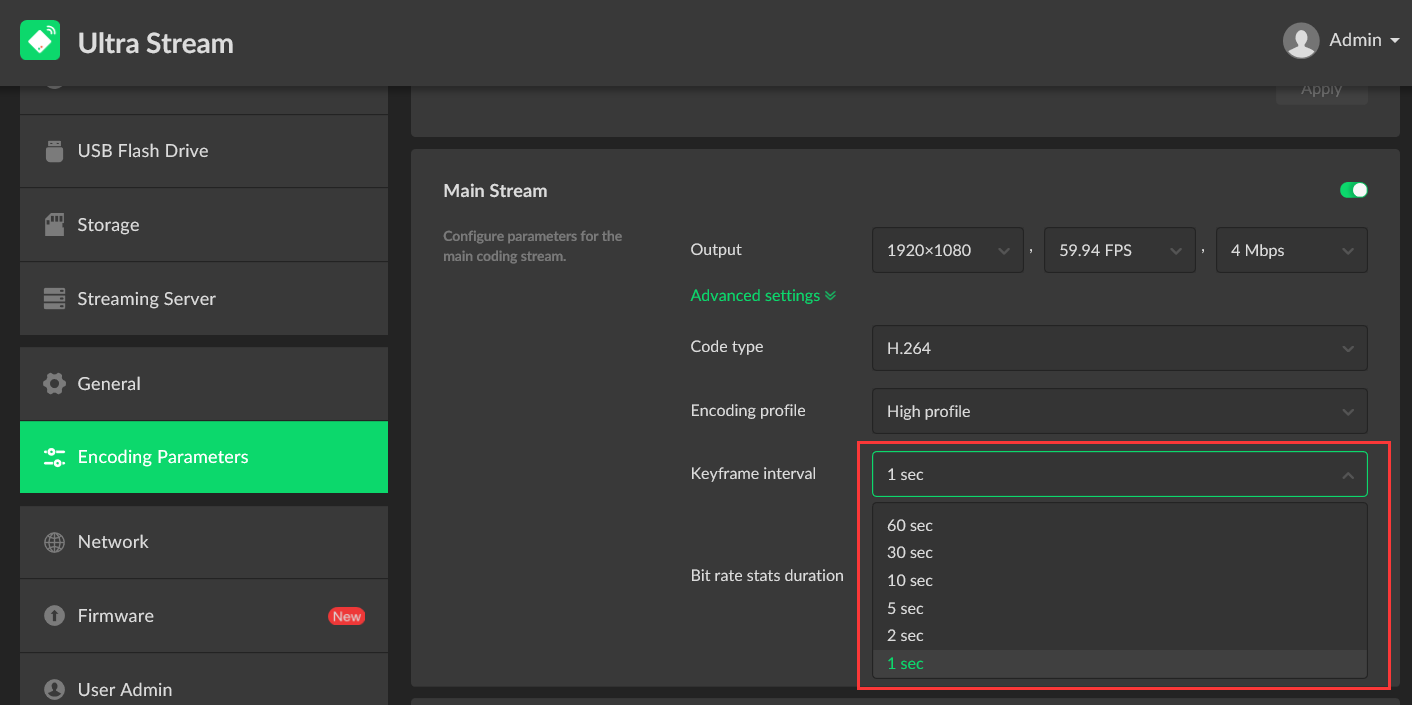 4. Select appropriate wireless network channel.
When the Ultra Stream encoder is connecting to the network through Wi-Fi, if there are multiple wireless routers nearby using the same or overlapping channels, a channel competition relationship will be formed which will affect the quality of the wireless link.

Select appropriate wireless router channel in relevant Wi-Fi settings. In order to effectively avoid mutual interference caused by channel overlap, you should choose non-overlapping channels for different wireless routers.