Users of Pro Convert decoders can use the USB-A interface on the device to connect the mouse or keyboard, and directly set the decoders' parameters without logging into the Web GUI. After upgrading the decoder's firmware to version V1.1.595, users can also set hotkeys for the keyboard to quickly switch signal sources and realize more flexible decoding and display. In this blog, we'll introduce this function through NDI encoding and decoding video transmission solution.
---
Devices Used:
Two Magewell Pro Convert encoders (Pro Convert HDMI Plus is used in this example).
One Magewell Pro Convert decoder (Pro Convert for NDI® to HDMI is used in this example).
Two PTZ cameras.
One laptop, one display, one keyboard and several HDMI cables.
---
Steps:
1. Use Magewell Pro Convert encoders and decoders for video transmission solution, the device connection is shown as below. By default, the NDI stream sent by the encoder is named after the serial number of the encoder.

2. Log into the decoder's Web GUI, select one of the NDI streams available in the LAN and click "Save as preset". Then edit the "Alias", "NDI name" and "Buffer duration" in the pop-up "NDI" configuration interface. Click the "Hotkey" column, select the corresponding hotkey in the drop-down list such as "Ctrl+1", and click "OK".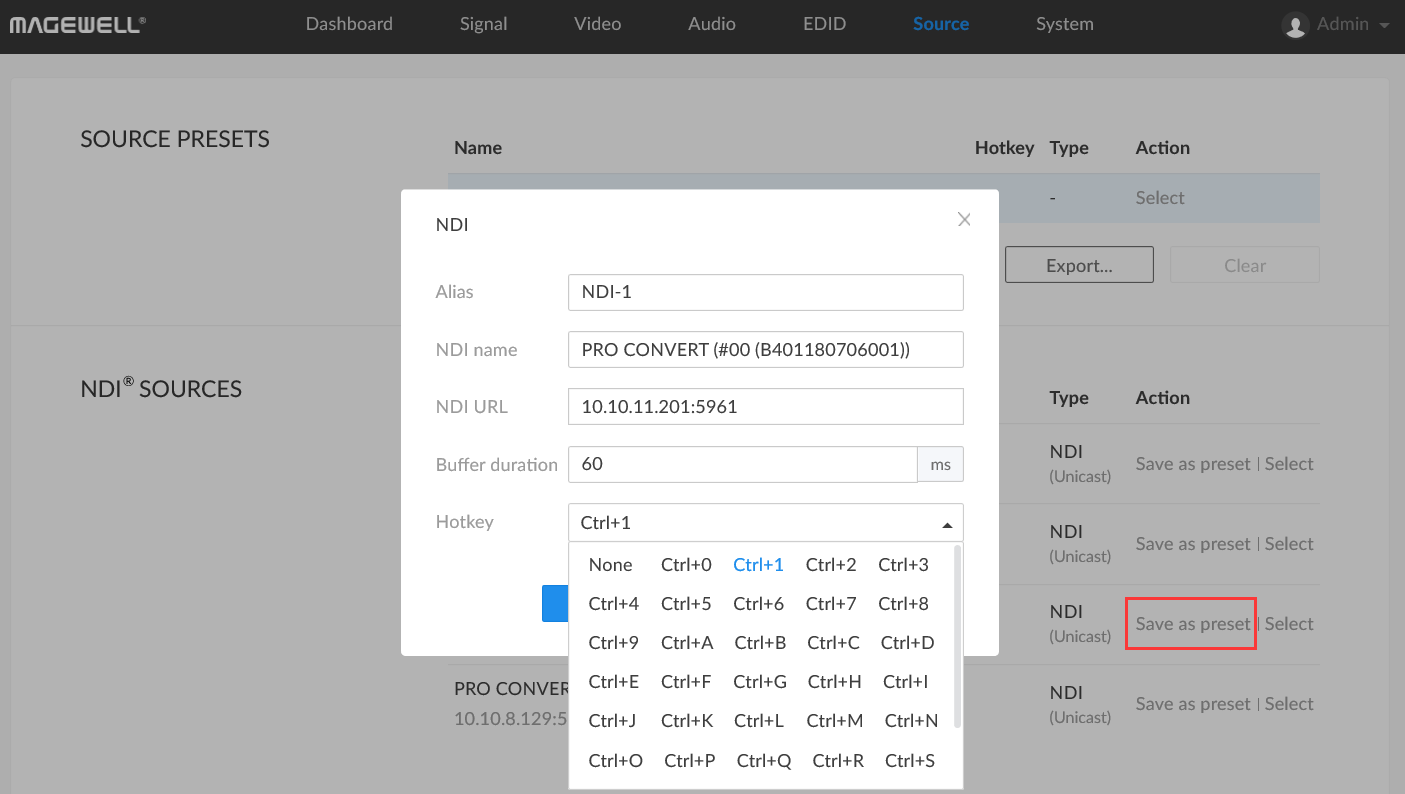 3. Similarly, repeat the above steps to configure another NDI stream hotkey to "Ctrl+2" and click "OK".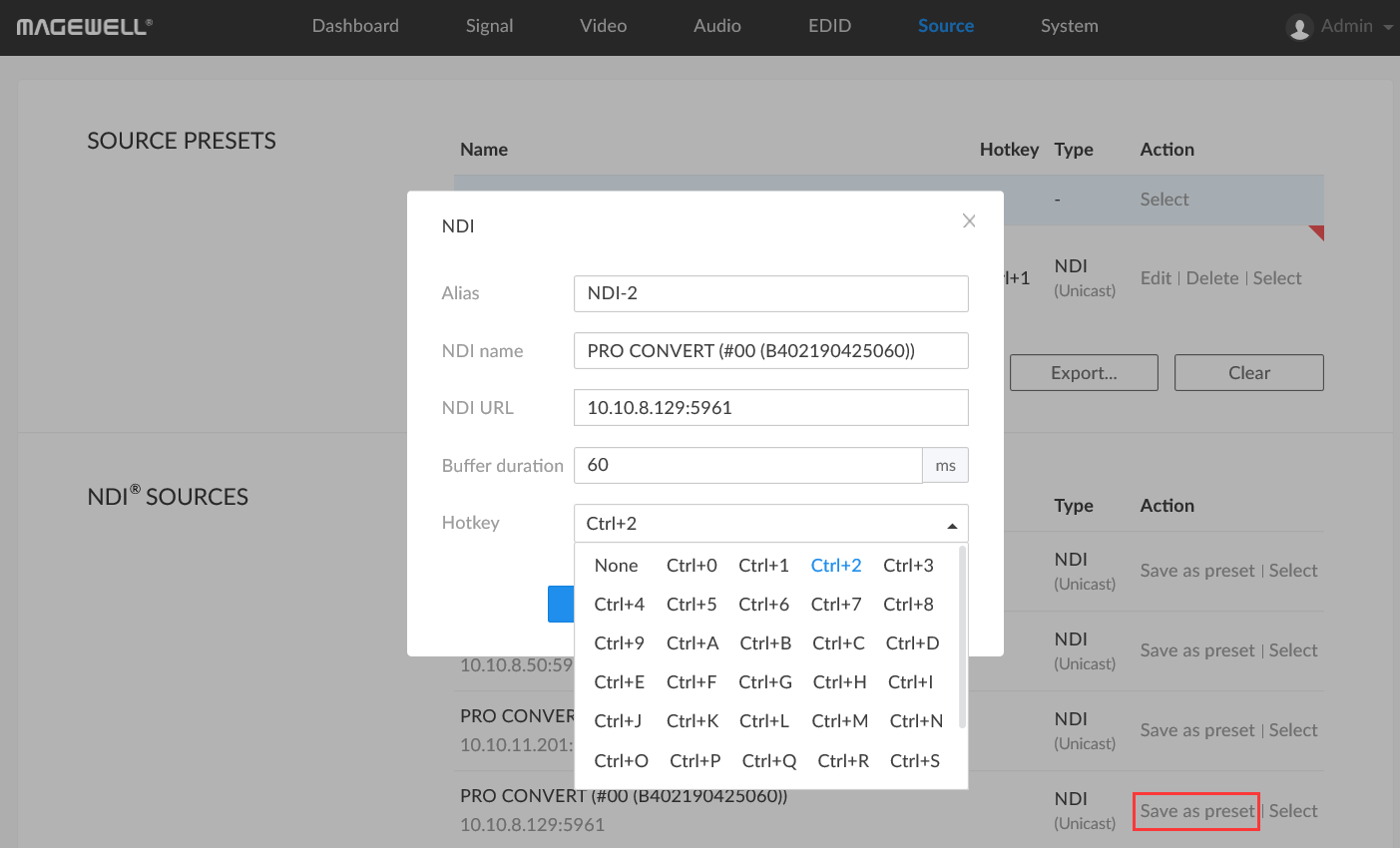 4. At this time, you can see the two NDI streams with hotkeys set in the "SOURCE PRESETS" column. In addition, you can also click "Add" in the "SOURCE PRESETS" column to manually add NDI, RTSP, HTTP, RTMP Pull/Push, MPEG-TS over UDP/SRT/RTP streams and then configure the hotkey.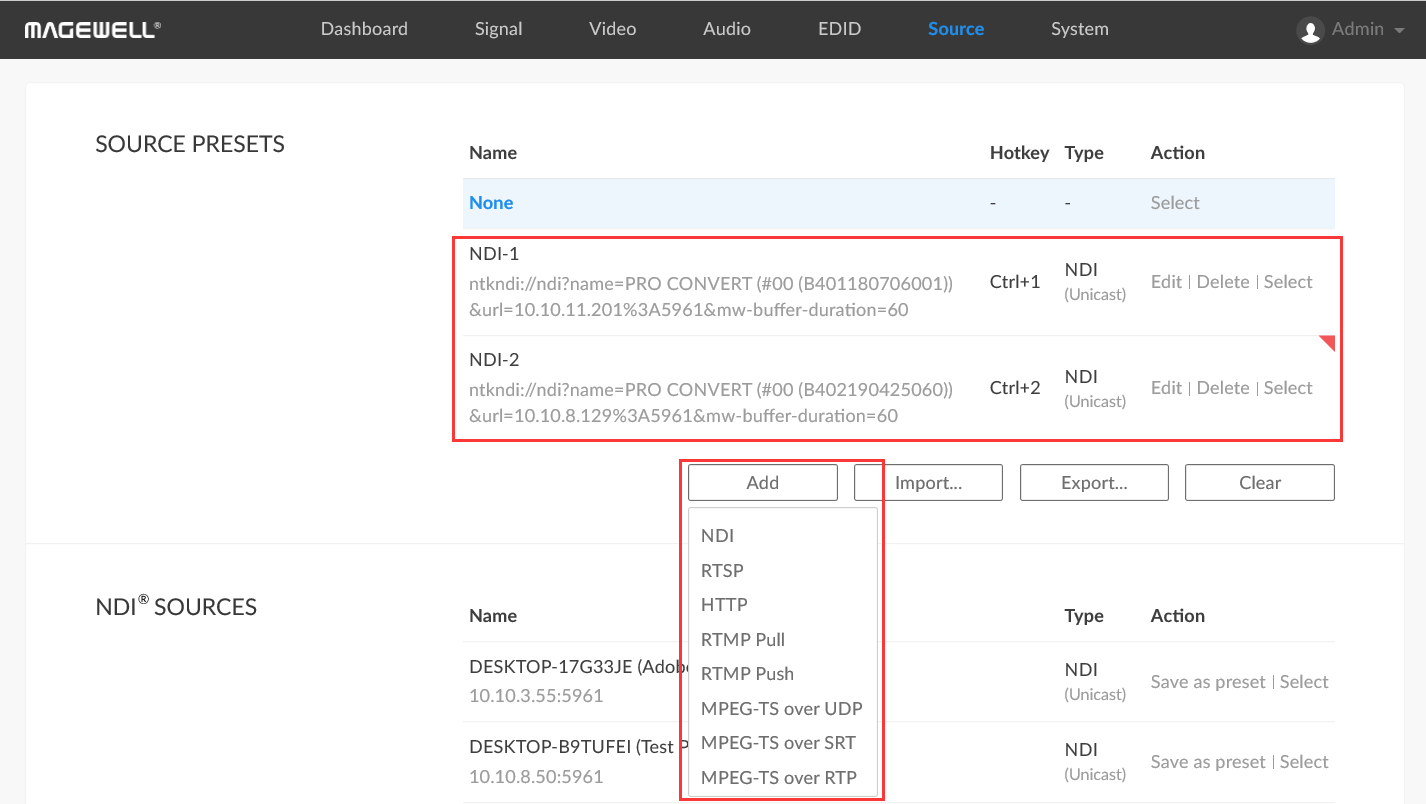 5. On the keyboard connected to the decoder, press the hotkey "Ctrl+1" and the decoder decodes and outputs the "Camera 1" screen; press the hotkey "Ctrl+2" and the decoder decodes and outputs the "Camera 2" screen.
In practical applications, users can also choose a programmable keypad that is smaller than the conventional keyboard, such as the X-Keys numeric keyboard to save desktop space. In addition, it should be noted that there is no USB-A interface on Pro Convert for NDI to AIO, so the above functions are limited to other decoder models.