What should I do when firmware upgrade failed?
Here's the procedure if upgrade failed while upgrading the hardware version of USB Capture devices through USB Capture Utility V3:
Make sure all the other applications are closed during upgrading.
Make sure the device was not unpluged or operated, the computer was not shut down or rebooted during the update process.
Click Retry repeatly. If all failed, go to the next step.
Unplug and reconnect the device. If the device can be recognized by USB Capture Utility V3 correctly, try to upgrade again. If not or upgrade failed again, go to the next step.
For more help, please contact our support team at support@magewell.net or the dealer.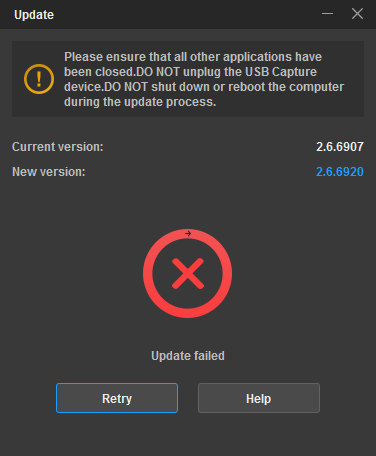 Why the firmware upgrade function of Utility V3 is not available when my USB capture device is connected?
Only the following capture devices support Utility V3:
USB Capture HDMI Gen 2
USB Capture SDI Gen 2
USB Capture AIO
USB Capture HDMI Plus
USB Capture SDI Plus
USB Capture DVI Plus
USB Capture HDMI 4K Plus
USB Capture SDI 4K Plus
If your device is not listed, it cannot support firmware upgrading using Utility V3.
If your device is listed, you need to check the Firmware version. If it is lower than 2.6.6907, please contact support@magewell.net for help.