With the pandemic still fresh in people's minds in several parts of the world, many corporate enterprises are still choosing to recruit among college and university graduates virtually rather than on-campus. Unlike typical online recruiting that can be carried out through video conferencing software, online campus recruitment usually includes an opening speech in which the host will introduce the company or available positions with a PowerPoint presentation. However, video conferencing software does not offer sophisticated video production functions such as picture-in-picture, or displaying the logo of the enterprise on-screen to reinforce its brand.
In this case, producing the enterprise recruitment video and incorporating the result into the video conference can not only help vividly convey the recruitment information, but it can also enable a better interactive experience. This blog introduces how to improve online recruiting using Magewell's USB Fusion, the multi-input USB video capture device with integrated source switching and layout control.
---
Devices Used:
One laptop with video conferencing software installed. In this example, we're using Zoom.
One Magewell USB Fusion device.
One or more HDMI cables (depending on the numbers of available video sources) and one USB-C to A/C cable.
One or more cameras.
---
Solution:
The content flow of our solution is outlined in the device connection diagram below.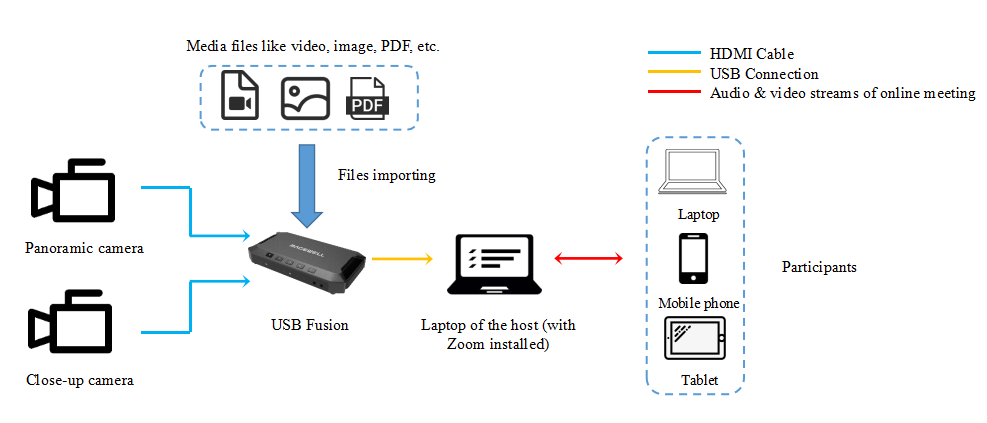 ---
Advantages of the solution:
1. USB Fusion offers two live HDMI inputs and one live USB webcam input while also allowing users to add images, pre-recorded video clips, background music, PDF files, web pages, watermarks, and annotations into their presentation. The combination of live video and multiple media files makes the resulting online recruiting experience more attractive.
2. While USB Fusion can be controlled with on-device buttons or a web interface, its full presentation power is unlocked through the free USB Fusion companion app for iOS® and Android® tablets. The intuitive app provides expanded layout controls for combining any two of the three input sources with the imported media files, including picture-in-picture and side-by-side.
3. The app's annotation tools can be used to mark up presentation materials in real time, and the annotations can be exported and shared in PDF, PNG or JPEG formats after the recruiting event.
4. The host can create and perform the presentation using only USB Fusion, with no other video production equipment or a director required. This saves equipment and personnel costs.