Games such as "PlayerUnknown's Battlegrounds" and other first-person shooting games have become popular all over the world in recent years. Many players pair monitors having at least 144Hz refresh rate with games that support 144fps or higher frame rate, which can help them achieve as close as possible to a "zero delay" experience in their ultimate goal of "what you see is what you get."
Recording the original game content while playing at 144fps is a pain point for many players, since typical encoders or capture cards cannot handle 144fps signal sources well. This blog explains how to use Magewell capture devices to capture and record 1080p 144fps game video signals.
---
Devices Used:
A monitor with 144Hz refresh rate and a game console or gaming computer.
A computer (desktop or laptop) with recording software installed. Our free Capture Express V3.2 is recommended.
A Magewell PCIe capture card or USB capture device. Pro Capture HDMI 4K Plus LT or USB Capture HDMI 4K Plus are recommended. (Note that because of the bandwidth limitations of USB 3.0, the frame rate of the recorded video with a USB capture device may not reach the full 144fps, but you may wish to record and stream at a lower frame rate anyways)
A Magewell USB 3.0 cable (if using a USB Capture device) and two HDMI cables.
---
Steps:
1. Device Connection
Using a laptop to record: the USB Capture family is plug-and-play, so you do not need to install additional drivers – just the recording software.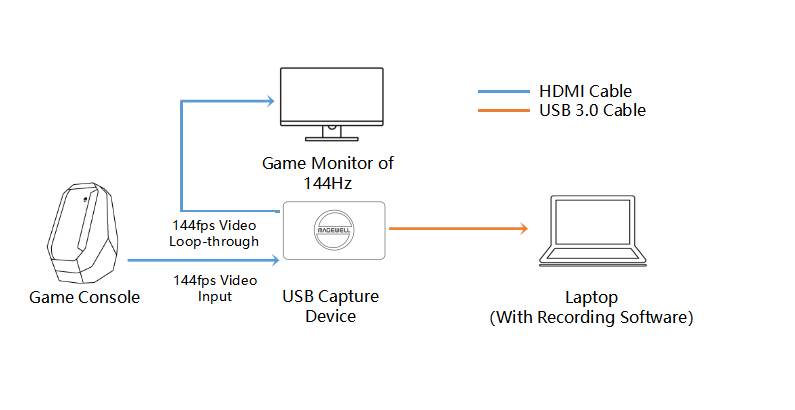 Using a desktop computer to record: install the Magewell capture card in a PCIe x4 (or higher) slot in the host computer, and install the driver (available for download on the "Support" page).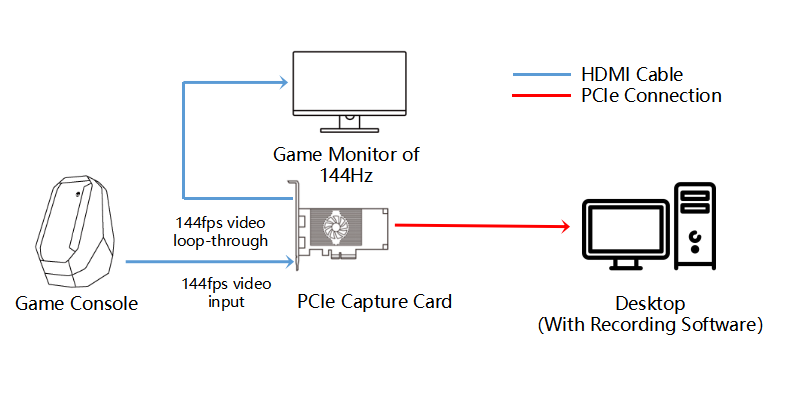 2. On the gaming system, open the graphics card control panel (for a gaming computer) or video settings panel (for a game console). Set the resolution at 1920x1080p and the output refresh rate at 144Hz (The frame rate of the output video signal will be 144fps).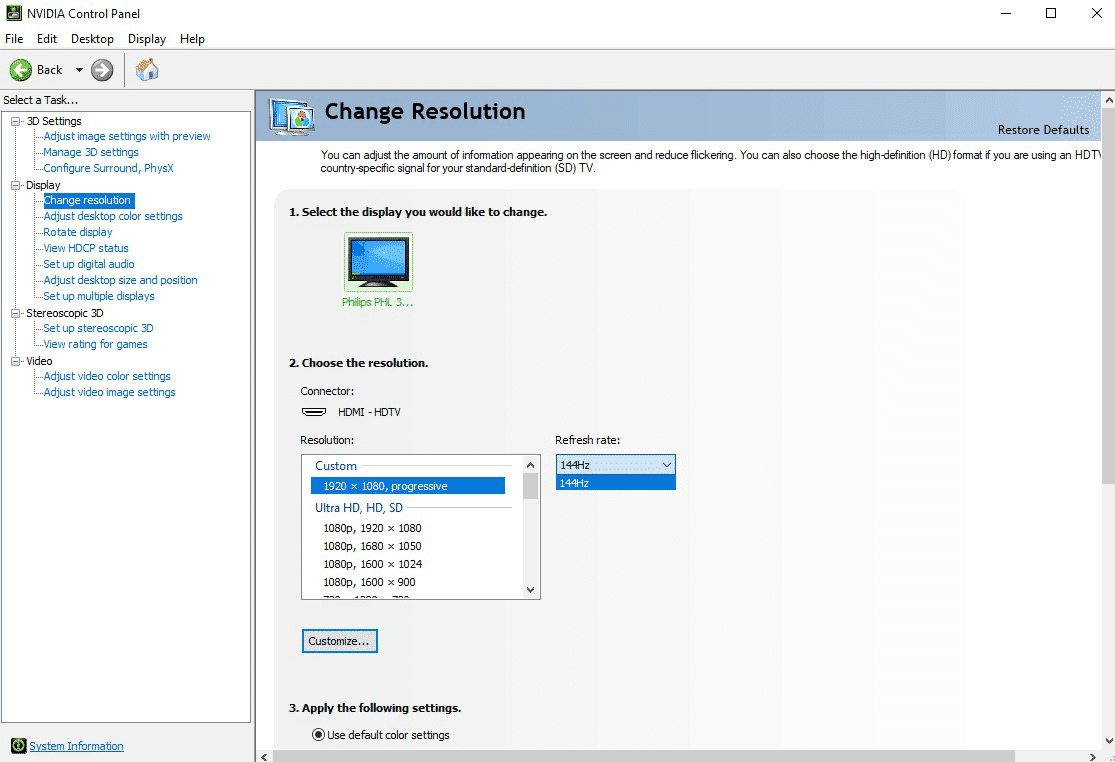 3. Open the recording software. Choose the Magewell capture device (if not already selected), and start recording the game.
Both USB Capture HDMI 4K Plus and Pro Capture HDMI 4K Plus LT feature a video loop-through connection. This enables you to output game content to both the capture device (for recording) and a monitor (for gaming) simultaneously with no delay, without needing an HDMI splitter. This avoids the risk of instability that may result from external splitter (as well as the cost of the splitter). The USB Capture HDMI 4K Plus also supports capturing a microphone audio input and monitoring via headphones, allowing recording of both the game progress itself and the player's commentary.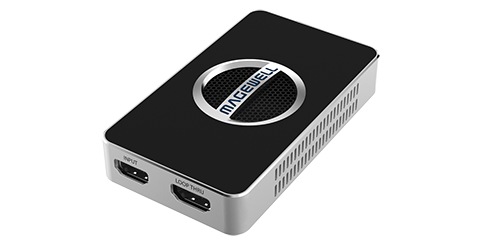 From a practical standpoint, live streaming platforms usually have limits for frame rate; for example, the highest streaming frame rate of YouTube, Twitch and Facebook Live is 60fps. Even if the player chooses to upload the a 144fps recorded video clip to the platform, it cannot be guaranteed that viewers have a monitor supporting 144Hz refresh rate. Magewell capture solutions feature FPGA-based processing for scaling video resolution and frame rate, which minimizes the processing impact on the host computer CPU while providing a reliable, stable, and cost-effective capture solution.
In addition to personal recording requirements, if users need to efficiently transmit 144fps game screens for eSports production, Magewell's Pro Convert HDMI 4K Plus NDI encoder is highly recommended. NDI is a protocol for high-quality video-over-IP transport introduced by NewTek. Magewell integrated this technology in many models of the Pro Convert hardware family, which can help users achieve low-latency video transmission regardless of physical distance and is compatible with 1920x1080p 144fps sources. There are many software and hardware live production products that support NDI decoding, including vMix, StreamStar, NewTek TriCaster, Watchout and our own Pro Convert decoders.